Financial services are digitizing fast but there is much more public and private sectors can do to deliver reporting controls which fulfil supervisory mandates in a digital age.
We were pleased to have 50 individuals from global supervisory organizations, financial institutions and firms for the first working session of our new Digital Reporting Taskforce (DRTF) last week. The next meeting has now gone out and we look forward to developing a position on what building blocks are needed in advance of our November conference.
The Digital Reporting Taskforce first meeting results
The group agreed that JWG will host 'safe space' which keeps reporting conversations from  become political and polarized.
The objectives of the group are to:
Define a future target operating model for the regulatory reporting system
Recommend migration paths & identify opportunities/ barriers and
Suggest short terms targets to help satisfy upcoming prudential and market transparency mandates.
In the first phase DRTF will look at the broader frame of supervisory technology (SupTech) with a view to creating a paper by December 2021 covering challenges and 2022 priorities. This will frame the action plan for 2022 and beyond.
In our first meeting a global group of regulators, firms and suppliers discussed the changes in the regulatory reporting story, the building blocks required, stakeholders to engage and the collaborative mode of working we would like to establish.
DRTF1 Summary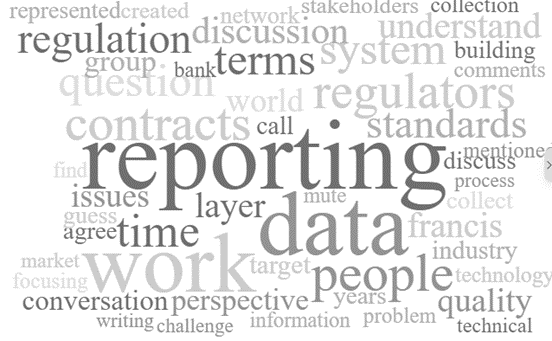 Regulatory data = financial data
One key subject covered at the meeting was the UK PRA's ' Dear CEO' letter published this month. The letter admonishess firms for their "historic lack of focus, prioritisation, and investment in this area" and called for firms to devote as much rigour to regulatory reporting as financial reporting.
JWG noted that that's a big statement because regulatory reporting is not financial reporting. The UK has really raised the bar as regulatory data requests are not currently expressed in a manner which allows the individual actors to agree common interpretation – as accounting standards bodies do today.
This means that a RegTech infrastructure, standards and methodology is required to formalise the way the industry interprets what are today very subjective judgements.
RegTech tooling is now here to support this need and is being adopted by firms keen to cut costs in the next round of reporting programmes which are kicking off with EMIR Refit now and will continue through Basel IV.
You can find more analysis on the importance of the PRA's statement in Rachel Wolcott's analysis here.
Next steps
At this next meeting on 5 October, we will start with 4 building blocks, identify targets and highlight gaps to current state:
Regulatory glossary
Meaning
Look-ups
Reporting oversight
Participants will be leveraging lessons learnt from a selection of excellent UK and EU studies and use cases which are currently in progress including:
11/19 EU Fitness check ANNEX 4: OVERVIEW OF MAIN ISSUES WITH EU SUPERVISORY REPORTING REQUIREMENTS p. 179-202
12/19 ROFIEG report Standardisation, RegTech and SupTech 60-66
9/21 PRA Dear CEO Thematic findings on the reliability of regulatory reporting letter
We look forward to continuing to host the safe space for these debates and revealing what we have found at our conference in November. Let us know if you'd like to join in!
Additional resources
To join October's DRTF2 email Corrina