RegTech continues to gain momentum. Where is it resonating what are the top themes in 2022?
JWG's is pleased to reveal that our global engagement is picking up pace across the globe for core banking topics.
Global footprint
Our global footprint has expanded to 163 jurisdictions with the US grabbing the top ranking for a 2nd year in a row from the UK with Asia and Europe vying for 3rd place.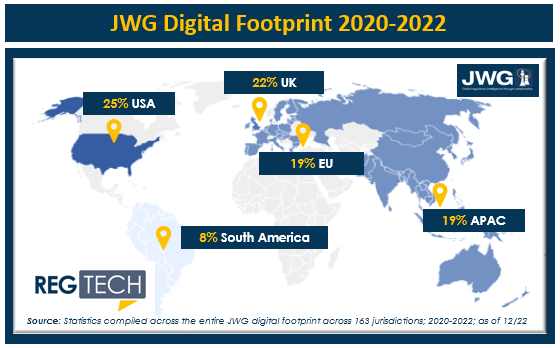 We are averaging 7,000 sessions a month with 17,000 unique users generating 29,000 sessions in 2022.
We have had 99,360 listening minutes across our RegCast and events channels in 2022.
RegCast channel 
In 2022 we doubled our RegCast episodes. There are now 40 no-nonsense discussions on the pain points for digital compliance. Financial institutions, regulators and technology suppliers have downloaded 18,000 episodes.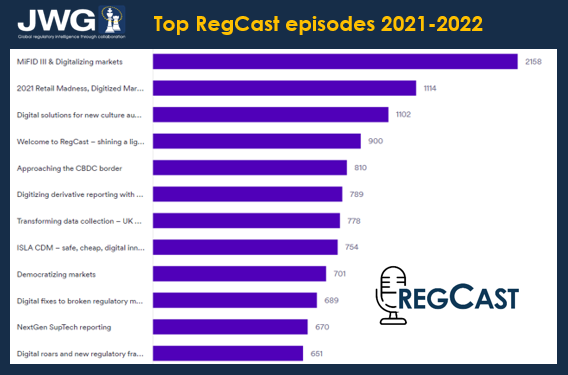 Having started as a MiFID joint working group in 2006, it comes as no surprise that of these 12 episodes trading and market abuse  themes top the list with 4,600 listens to date. We are also quite pleased that reporting and data themes continue to gain traction with 3,700 plays thus far!
Digital events
JWG ramped up virtual event production following feedback from the firms which felt that a physical event did not always meet their needs.
We hosted 82 speakers, 35 sponsors, 1,000+ attendees and 3,200 event page visits which netted 9,000 article impressions.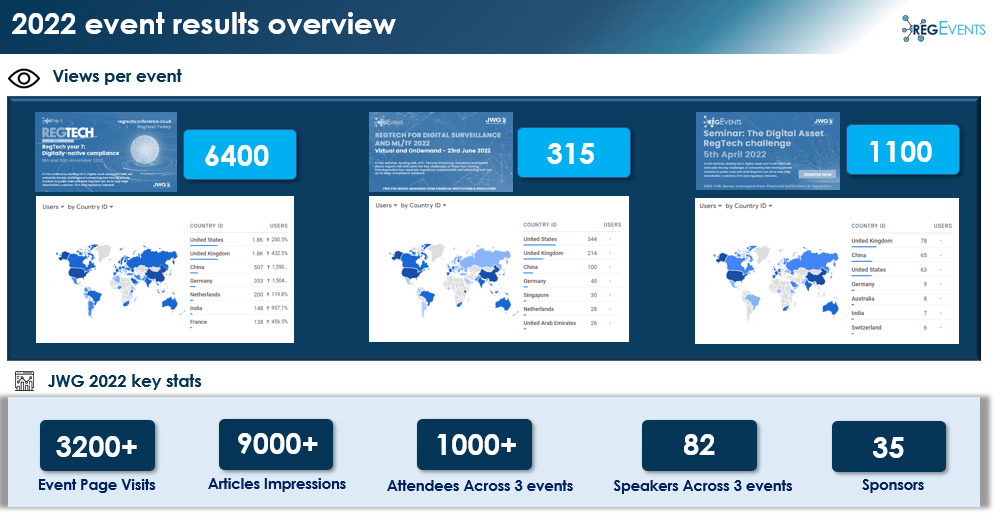 Our 7th annual RegTech conference on digitally native compliance has 200+ registered delegates thus far from of nearly 30 firms, 9 trade associations and 11 regulators, from  40 countries.
Even more senior decision makers are signing up for access to all the recordings, which are available until the end of May. We have already had over 1K users accessing the conference site.
Our 10 panels featured 40 speakers including representatives from ADGM, the US Treasury, Barclays, Commerzbank, Credit Suisse, Deutsche Bank, Goldman Sachs and JP Morgan.
Experts provided insight on RegTech drivers, priorities and gaps in focus for 2023.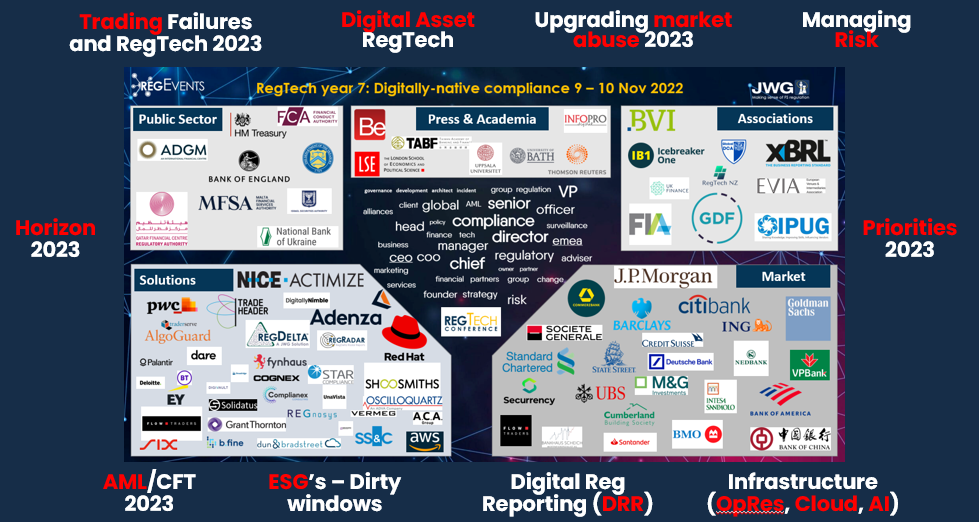 JWG's detailed radar analysis provided a backdrop an informed view of the red flags, challenges and strategies to deal with them.
For a sneak preview of the 2023 agenda, registered delegates can listen to experts discuss their favourite topics. As a special holiday gift, access to the recordings will be free of charge through Q123.
Stay tuned for the 29th edition of our RegBeacon which will provide a guiding light forwards in the new year.