JWG's sell-side and asset managers' trading compliance radars are hot, and we've assembled and all-star cast to discuss the key trading perimeter, market data, consumer duty and risk surveillance issues on 22 March. Don't miss this opportunity to dial-in to the debate.
Complimentary VIP Pass Available – Apply Now!
2023 Trading radar
Manufacturers and distributors face shifts in market venues, customer expectations and risk management obligations over the next two years.
Key change topics
Trading perimeter: ESMA opinion, UK Q223 consultation, PFOF
Digital assets: HMT Future FS regulation of cryptoassets CP
Market data: Post-trade transparency proposals, ESMA transparency manual, Consolidated tape, data quality standards, reasonable commercial basis, UK wholesale data FS22/1
Consumer duty: product governance, ESG PAI, best execution reporting
 What is the impact on sell-side issuers, asset managers and their suppliers – and, as we described in our article on Compliant trading by design – how will compliance RegTech help?
Please see our agenda for more detail on what JWG's independent research has turned up so far.
22 March JWG seminar
JWG has assembled an all-star cast of 20+ speakers from leading De Fi, Digital Asset and TradFi SMEs who will come together virtually on 22 March to articulate the key trading compliance challenges precipitated by divergent UK, EU, US and Asian policies.
We will discuss how proven RegTech can be deployed now to help empower 2nd and 3rd lines of defense to ensure customer, firm and regulatory interests are aligned.
We are pleased to announce the first wave of speakers from:
Regulators: UK Financial Conduct Authority
Associations: FIA, BVI, GDCA, IPUG
Firms: GAM Investments, Barclays, State Street, Former JP Morgan/ Wells Fargo
Supply chains: Apiax, Securrency, TradeHeader, NICE Actimize, Shoosmiths, SIX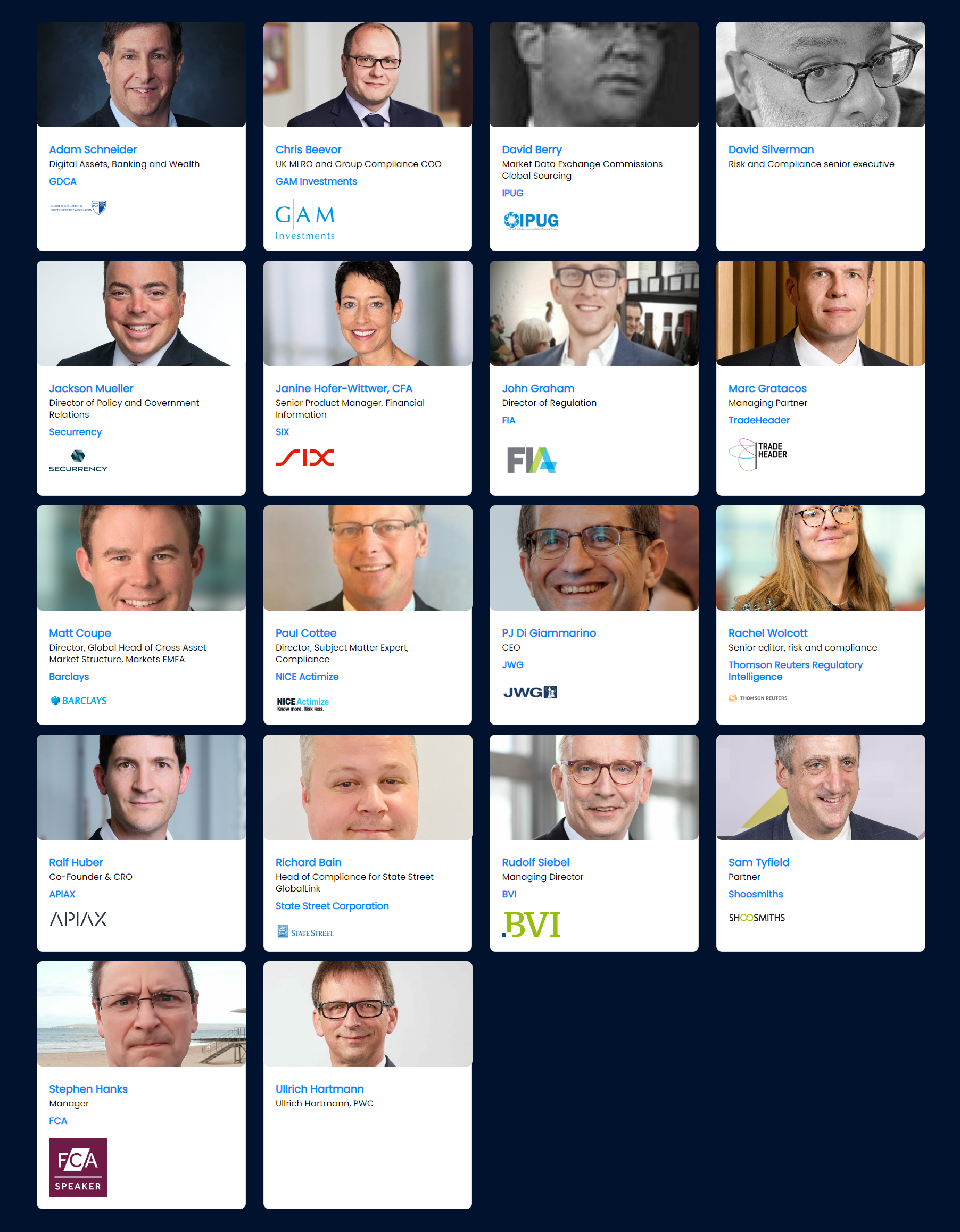 Target Audience
This conference has something for everyone in the RegTech industry and is truly unique. Whether you're a SMEs, executive decision-maker or regulator who wishes to stay on top of regulatory changes you will gain strategic insight and take away practical recommendations for 2023.
Public sector: Prudential regulators, Conduct regulators, Government bodies, Policy units
Private sector: Financial institutions, Accademia, Trade bodies, Standards organisations.
Financial institution roles:
Middle office: Compliance, legal, risk, market data, KYC, data
Technology: CTOs, heads of eCommerce, heads of IT, etc.
Regulatory SMEs: heads of regulatory change, regulatory reporting, regulatory policy owners, etc.
Executive decision-makers: CDOs, CIOs, CAOs, COOs, etc.
Unlike other seminars, JWG will make all content and intelligence available on a fully interactive platform for 6 months, allowing the industry to reflect on the event well into 2023.
About JWG
As an independent think-tank company and pioneering developer of one of the world's first regulatory change management systems, JWG is uniquely positioned to bring this RegTech conference to life.
With over 100 investment firms and tech companies as members of over 400 working groups since 2006, engaging social media and an extensive global network, we guarantee an audience that includes the right individuals from top tier firms and their regulators which you are unlikely to meet elsewhere.
Want to register for your All Access Delegate Pass and join this not to be missed RegTech conversation?
For more information, please contact corrina.stokes@jwg-it.eu.