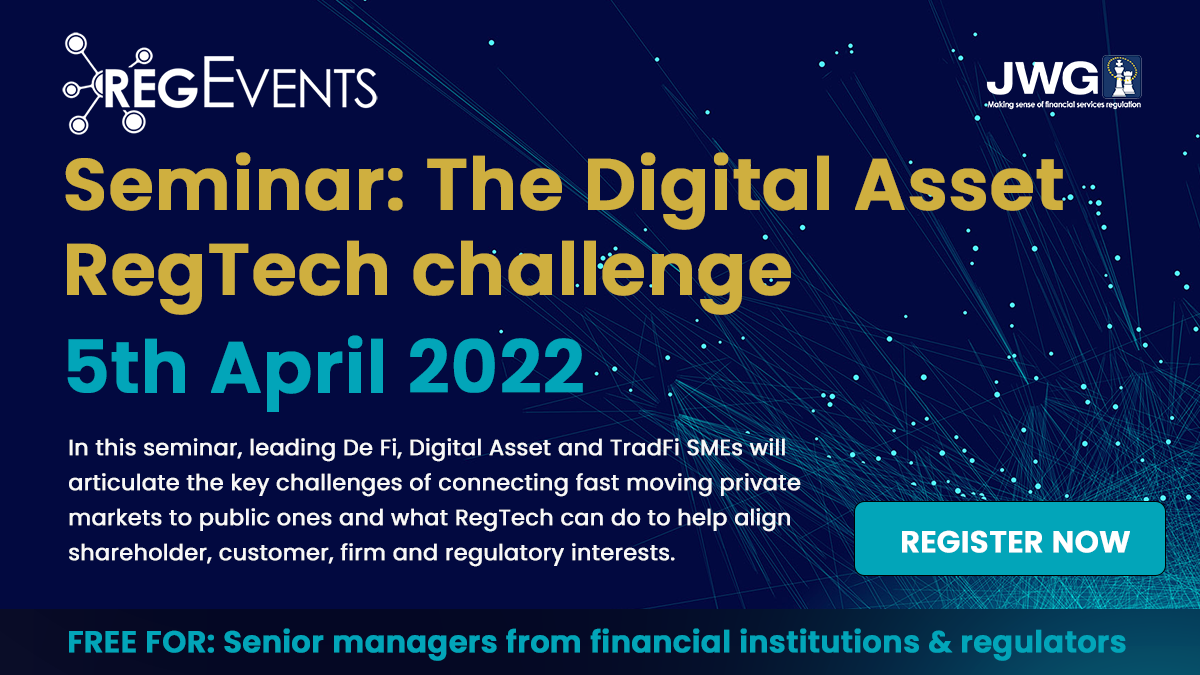 Objective: Develop and encourage interoperability by exploring RegTech themes which are common to Digital Assets, Crypto and Traditional Finance (TradFi) business models.

Description: As Digital Assets move into the realm of TradFi, the interoperability of the markets depend on common safety standards and communication protocols within the FS infrastructure. In this seminar, leading De Fi, Digital Asset and TradFi SMEs will articulate the key challenges of connecting fast moving private markets to public ones and what RegTech can do to help align shareholder, customer, firm and regulatory interests.
About JWG's RegTech conferences: We strive to create a community which not only discusses the regulatory agenda but encourages strategic conversations on how firms, in conjunction with regulators and trade associations, can avoid the many pitfalls in this space.
Why join now:  The digital assets marketplace is moving fast and regulatory change is sprinting to catch-up. The stakes are high, scores of TradFi regulation begin amended. Since 2008, our RegTech Conferences have consistently proved to be the ideal forum for FS market leaders and decision makers, to have comprehensive and constructive discussions with their peers, regulatory bodies and technology innovators. We want to see how we can get these changes done in a better, faster and smarter way – RegTech can help. Be part of the solution and join us to shape the debate.