The global money laundering and terrorist financing watchdog Financial Action Task Force (FATF) has published the targeted update on implementation of its Recommendation 15 (R.15) across 98 surveyed jurisdictions and the results are not pretty. With more inbound rules on our VASP RegRadars, we summarise the implications of these latest findings and what to look for next.
The FATF R15 Journey
In 2019, the FATF adopted the finalized Interpretive Note to Recommendation 15 following a public consultation on the measures applicable to virtual asset transfers.
This recommendation, a cog in a rather big wheel of FATF Recommendations, requires countries to implement measures to ensure that VASPs are subject to effective regulation and supervision or monitoring for AML/CFT purposes. As shown below, this includes licensing or registration of VASPs, ongoing monitoring of their operations, and the implementation of preventive measures, such as customer due diligence, record-keeping, and suspicious transaction reporting.

Source: Table 1.2 of the Virtual Assets: Targeted Update on Implementation of the FATF Standards (June 2023)
What's the update?
The June 2023 update finds that countries are lagging in the global implementation of R15. Of the 98 jurisdictions surveyed, 75% of jurisdictions assessed are only partially or not compliant with the FATF's requirements, citing lack of information, data, or methodology to use for analyzing VASPs and VASP activities.
Specifically, the focus areas identified within – that were pointed out as lacking are:
Risk assessment – 52 of 151 jurisdictions reported not having conducted a risk assessment on VAs and VASPs
Developing a regime for VASPs (i.e., registering/licensing or prohibiting VASPs) – 27 of 90 jurisdictions reported to have not issued licenses or are developing one.
Implementing the Travel Rule – 135 survey respondents from jurisdictions that do not ban Virtual Assets or VASPs, only 35 (58 including the countries in the European Union jurisdictions with MiCA and TFR) have implemented or are enforcing Travel Rule regulations and 27 are in the process of passing Travel Rule legislations.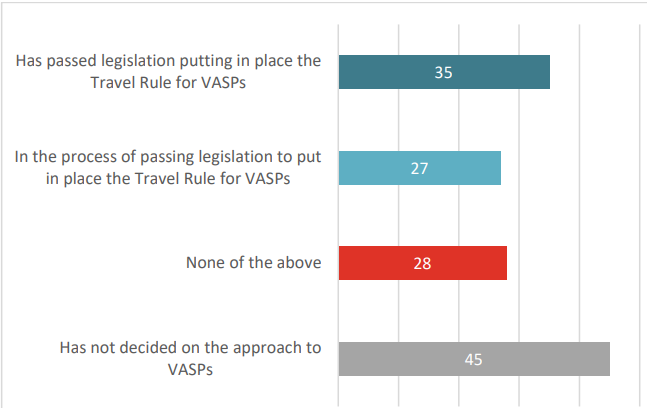 Source: Figure 2.1 of the Virtual Assets: Targeted Update on Implementation of the FATF Standards (June 2023)
A reasonable number (61%; 55 of 90 respondents) have also taken enforcement actions or other supervisory action against VASPs that failed to comply with their obligations.
Travel Rule
According to our previous article, Virtual Asset Service Providers (VASPs) have until September 1, 2023, to ensure compliance with the FATF Crypto Travel Rule in the United Kingdom.
The regulators from the UK and the 27 jurisdictions that are reported to be working on Travel Rule legislation have been given a shot in the arm in form of guidance questions (image below) aimed at clearing the uncertainties surrounding the implementation of the Travel Rule.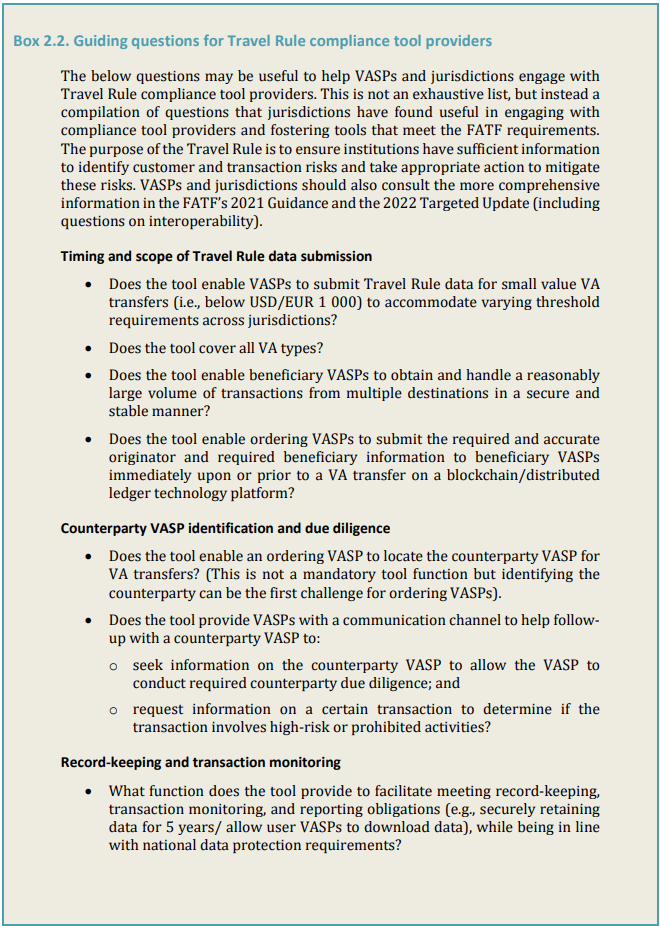 Source: Box 2.2 of the Virtual Assets: Targeted Update on Implementation of the FATF Standards (June 2023)
Not all doom and gloom
Although laxity in the implementation of R15 has been reported, there are indications of relatively timely progress in the supervision and enforcement of Virtual Asset Service Providers' (VASPs) Anti-Money Laundering and Countering the Financing of Terrorism (AML/CFT) obligations.
Over 75% of jurisdictions that permit VASPs report having conducted a supervisory inspection or have included VASPs in their current inspection plan (68 of 90 respondents).
2023 virtual assets roadmap
JWG has been following publications across the globe, acting as a beacon through vast volumes of publications released by oversight bodies and has road mapped various publications that have been produced to aid VASPs in achieving compliance.
The Asian region, particularly Hong Kong and Singapore, is arguably considered at the forefront of creating a favorable environment for Virtual Asset Service Providers (VASPs). Hong Kong has recently implemented a new VASP regime that became effective on June 1, 2023, with plans to license all Virtual Asset Trading Platforms (VATPs) by June 1, 2024. Meanwhile, in Singapore, various initiatives such as "Project Guardian" which seeks to define a framework aimed at designing open and interoperable digital asset networks based on tokenized real-economy assets and financial assets has been introduced.
Some of the notable publications from this region include:
Hong Kong – Consultation Conclusions on the Proposed Regulatory Requirements for Virtual Asset Trading Platform Operators Licensed by the Securities and Futures Commission, 23 May here
Hong Kong – Circular on transitional arrangements of the new licensing regime for virtual asset trading platforms, 31 May here
Singapore – MAS Proposes Framework for Digital Asset Networks, 26 June here
More publications are anticipated from MAS, and IOSCO shortly. No doubt they will add to the FATF's guidance providing VASPs more guidance on the path to a robust and secure regulatory environment.