New JWG research 
JWG, the trusted financial services regulatory intelligence company, has announced the publication of a ground-breaking research paper 'Embedded Compliance Unlocked: Leverage AI-enabled compliance tooling now to be ready for 2025.'
With the relentless demand for improved compliance and cost/income ratios, financial institutions of all sizes are experiencing pressure to upgrade their approaches.
To better understand what it takes to unlock the hidden value of embedded compliance, JWG has interviewed more than 20 global experts, uncovering a path forward that can put businesses in direct control over their compliance rules and increase profitability, while controlling risks in real time.
For firms looking to stand out to their customers, regulators, and shareholders, JWG's white paper 'Unlocking embedded compliance' provides a three-step checklist and use cases on how Return on Investment (RoI) can be captured.
This authoritative white paper shines a light on how financial institutions have embraced AI and other technologies as part of their digital transformation journey, using rule repositories and model-based controls to overcome fears of non-compliance and increase profits while ensuring safety throughout the process.
AI-enabled Embedded Compliance has the potential to have a big impact this decade and those that have established rule repositories are at a distinct advantage.
JWG's founder and CEO, PJ Di Giammarino, commented: "With more leaders embracing RegTech the industry can be more agile and efficient. Common models and open source become the reference point for 'what good looks like' to the customer and regulator. We were pleased to collaborate with Apiax and EY on the implications from our findings and thank them for their support."
Ralf Huber, Co-Founder, Apiax commented, "This paper provides an excellent roadmap for Compliance functions' digital journey to streamline business controls and reduce risk by embedding compliance into core business processes. Our clients are seeing real RoI for trip down this road to a fully- digital business"
David Silverman, senior risk and compliance executive said, "This study describes the transition which financial services is undertaking now. Like the car companies in the 70s, we cannot rely on a department to catch the mistakes. To have quality at every step, we have to have compliance at every step. It needs to be baked in."
The paper is available free of charge to JWG registrants. If you do not have a JWG account register here.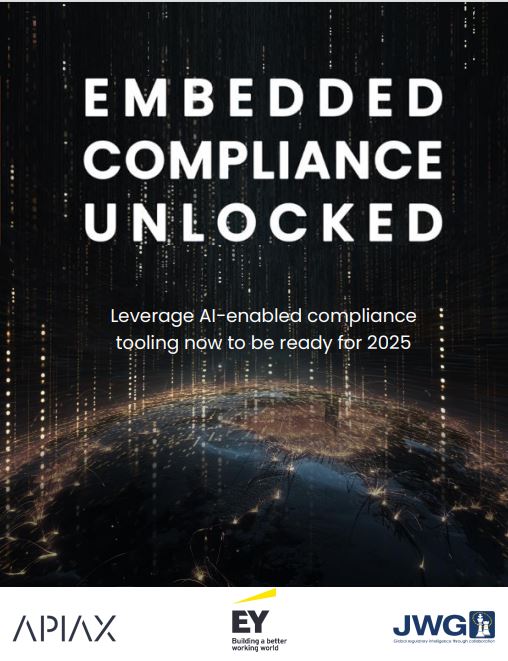 Want to learn more? Please register for 8th Annual RegTech conference in London on 7 February 2024
Media contacts:
Corrina Stokes
Corrina.stokes@jwg-it.eu
07973 492906
About the research
JWG is an independent market intelligence company who has been working with firms, technologists, and regulators since 2006, to help the industry comply with the ever-changing regulatory landscape. For more information contact: Corrina.Stokes@jwg-it.eu
This research report is based on a variety of global sources including 24 interviews with sell-side and buy-side compliance professionals. It includes intelligence gained from JWG's events, RegCast series and RegDelta Radar Services.