The introduction of regulatory frameworks such as SFDR, CSRD, MiFID II, and EU Taxonomy Regulation isn't just a simple compliance task.
ESG rules require new systems and data to support best practices for handling this data are still in their formative stages.
In great news for RegTech users, international regulators endorsed long-awaited global industry standards and JWG released its ESG RegDelta solution to the market.
Professionals looking to satisfy their ESG data obligations can now follow the tried and tested methods developed as part of the industry's DRR programme.
IOSCO's data conformity call
In a major step towards consistent, comparable and reliable sustainability information, the International Organization of Securities Commissions (IOSCO), an association of 130 organizations that regulate 95% of the world's securities and futures markets, has endorsed the sustainability-related financial disclosures standards, issued by the International Sustainability Standards Board (ISSB) this month.
The Standards that IOSCO has endorsed are the IFRS S1 General Requirements for Disclosure of Sustainability-related Financial Information and the IFRS S2 Climate-related Disclosures issued in their final version on 26th June 2023 after an 18 month drafting process and available here.
After a detailed analysis, IOSCO has determined that the ISSB Standards are appropriate to serve as a global framework for capital markets to develop the use of sustainability-related financial information in both capital raising and trading and for the purpose of helping globally integrated financial markets accurately assess relevant sustainability risks and opportunities.
"…this endorsement by IOSCO is an important milestone that we expect will result in global capital markets being able to access reliable, consistent and comparable sustainability related information which will allow investors to price sustainability risks and opportunities and help them make investment decisions."
Rodrigo Buenaventura, Chair of IOSCO's Sustainable Finance Task Force,
The Business Challenge
The bar has been set high by both customers and regulators, and any misinterpretation of data could result in missing the mark. Given the high stakes, it's crucial that businesses fully understand and accurately apply these regulations.
The consequences of failing to deliver accurate disclosures can be severe. It can put your organization at a competitive disadvantage in the marketplace, lead to substantial financial penalties, and could even culminate in exclusion from the European market.
As evidenced by the IOSCO and ISSB alignment, once discretionary ESG practices are swiftly becoming mandatory.
Multiple regulations are already shaping the ESG data landscape. Here's what you need to look out for this year:
 Policies, controls, quality data
ESG policies to deliver granular information are the order of the day but practices will be evolving for some time.
The bar has been set high by both customers and regulators, and any misinterpretation could result in disadvantages in the market or fines.
Given the high stakes, new capabilities are needed to keep systems and data up to speed with market expectations.
Adopting a RegTech-driven approach to interpret requirements will allow firms, counterparties, and data suppliers to reach a consensus on best practices.

JWG's experience with Derivatives DRR has presented a revolutionary pathway to achieve these ESG reporting goals in better, faster, safer and far cheaper manner.
Our reference architecture leaves spreadsheets behind and puts in place a single source of your regulatory truth to decipher policy obligations and define data needs.
RegDelta helps businesses navigate this complex landscape, putting you in control of your ESG data.
Streamlining ESG data with RegDelta
RegDelta is JWG's award winning NLP-powered solution which takes the pain out of ESG policy management, speeds up implementation programs and results in over 300% Return on Investment (RoI).
It makes keeping pace with ever-evolving ESG rules easy, as RegDelta serves as a dynamic repository for your policy and data rules, providing real-time updates like no other tool in the market.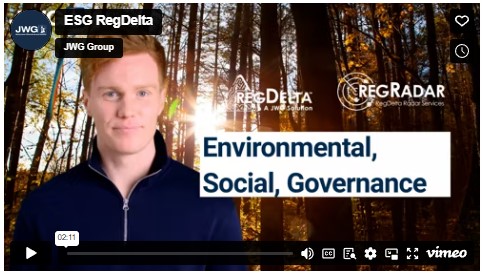 Find out more about our ESG offering here  or contact corrina.stokes@jwg-it.eu to arrange a free introductory consultation.
Join us in London on the 7th of February 2024!
We are delighted to be returning to a physical annual conference and as always leading SMEs will articulate the key regulatory and market reporting compliance challenges precipitated by divergent global policies.
We will be discussing how proven RegTech can be deployed now to help empower public and private sector alignment of interests.
Help us shape the agenda! For more information on how to get involved in JWG's 8th Annual Conference, or to find out about sponsorship opportunities, contact Corrina.Stokes@jwg-it.eu