The digital assets marketplace is moving fast and this month, regulators have started policy efforts in anger. Join us 5 April as 22 market SMEs discuss what this means and what comes next.
In the past month, US policy makers have fired the starting gun, The European Parliament has issued a DLT pilot regime report, The FCA has issued a notice to regulated firms with cryptoassets, the Bank of England has issued policy on crypto and De Fi, and the PRA has issued a dear CEO letter on cryptoassets, MIT and the BoE have announced a 12 month collaboration, The BIS has issued a report on international settlements using multi-CBDCs and IOSCO has issued a Decentralized Finance Report
The stakes are high and JWG is delighted to announce that our first of 3 digital finance seminars being held virtually on 5th April has assembled a fantastic line-up of 22 speakers, 7 firms, 2 regulators, 6 associations and nearly 10 vendors. See here for agenda.
This half day seminar is not one that you want to miss. Register now for your virtual VIP pass which will not only give you full access to the live event but also to all of the recordings of the panels, for a full 6 months.
We have now sold out its sponsorship packages but tickets are free for firms, regulators and trade associations.
Confirmed speakersJWG has assembled an all-star cast of speakers from legal, policy, operations, technology and compliance communities to cover:
The state of global digital asset policy:  BIS, BVI, Barclays, CMS
Protecting investors: ADGM, GDCA, ING
Protecting the markets & FMI: B2C2, SWIFT, Zodia Custody
Managing risk: BNY Mellon, Credit Suisse, DTIF, Securrency, SIX, SWIFT
Confirmed audience: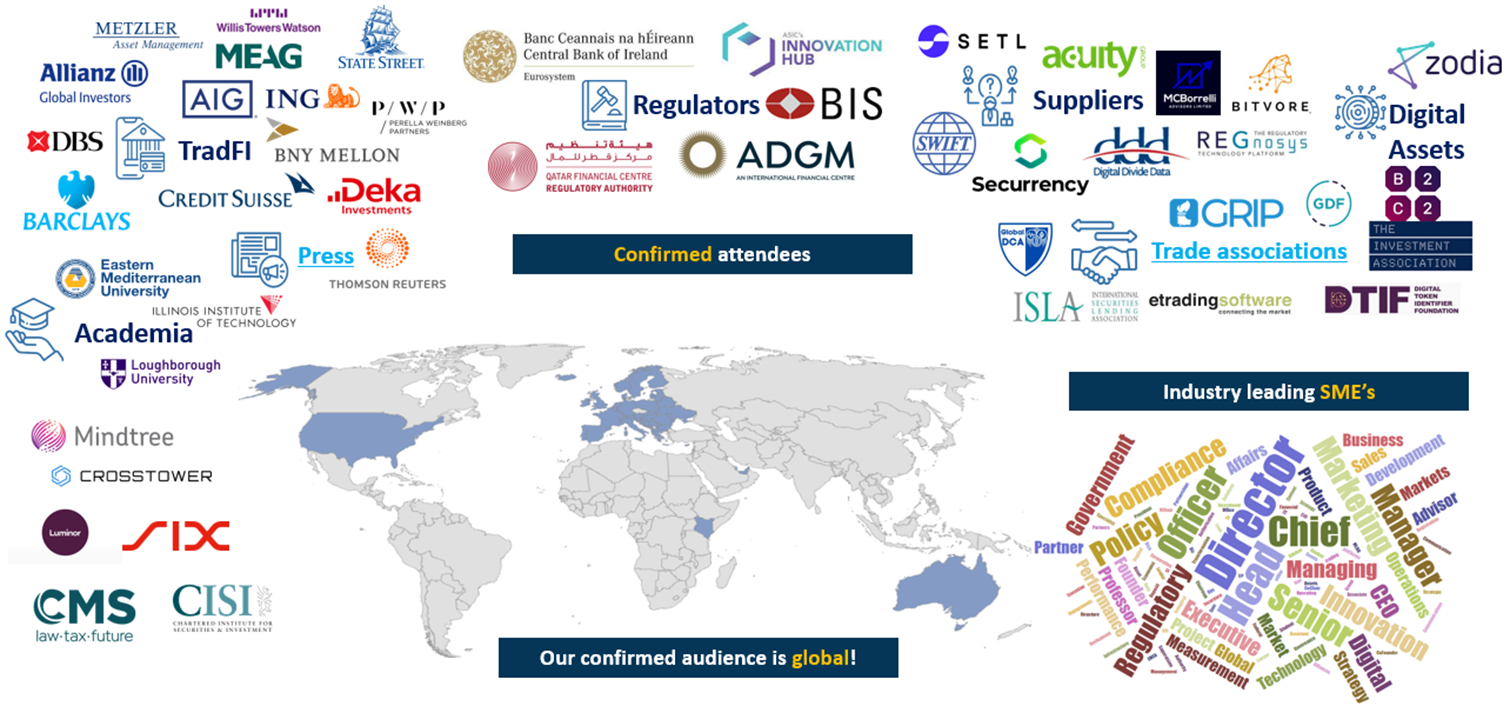 Source: confirmed delegates as at 24/3/22  – more  pending
Why JWG: Since 2008, our RegTech events have consistently proved to be the ideal forum for FS market leaders and decision makers, to have comprehensive and constructive discussions with their peers, regulatory bodies and technology innovators. We want to see how we can get these changes done in a better, faster and smarter way – RegTech can help.
JWG Events
The aim of our RegTech events has always been to bring together this wide community and encourage debate over the current and future regulatory agenda, as well as promoting strategic conversations. Here, market participants in conjunction with global regulators and trade associates tackle the new challenges ahead whilst investigating how the very best RegTech can make compliance strategies better, faster and more efficient.
JWG Annual Conference 2022
This seminar series will help lay the ground work for our annual conference which will be held in Q4 this year. We are considering a mix of physical and virtual formats to involve the global community as we share lessons learnt, promote new debate and set public and private sector targets for deploying a maturing set of technologies.
Get in touch with Corrina.stokes@jwg-it.eu if you'd like to find out more!