Accountability regimes will force board members and senior management on the Continent to rethink compliance for the Senior Executive Accountability Regime (SEAR) in 2024. The new regime will 'gold plate' current EU law and present international firms with major new hurdles.
Irish bankers will be individually accountable for their responsibilities, with fines and even jail time for wrongdoings. This article summarises why RegTech will play a key role in advance of our annual virtual conference on 9-10 November.
Global accountability regimes
Since the financial crisis, a cry for accountability spurred a number of jurisdictions to implement senior management controls. The EU introduced MiFID / CRD suitability guidelines a year before the US published the Yates memo in 2015.
However, oversight requirements took a dramatic turn when the UK implemented the Senior Managers and Certification Regime (SM&CR) in 2016. Billed as "a catalyst for change – an opportunity to establish healthy cultures and effective governance in firms by encouraging greater individual accountability and setting a new standard of personal conduct" [1], the world watched and then largely copied the approach.
In 2017 the Hong Kong Manager-In-Charge (MIC) kicked off another wave with the Australian Banking Executive Accountability Regime (BEAR-2018) and the 2021 MAS Guidelines on Individual Accountability and Conduct (IAS) following quickly.
The Continent is about to be regulated with a UK-style Individual Accountability Framework (IAF) which will make Irish bankers individually accountable for all the activity in their financial institutions with fines and even jail time for wrongdoings.
IAF vs. the world
The central bank of Ireland officially published the IAF Bill 2022 [2] on the 28th of July 2022 along with a supporting Explanatory Memorandum document [3]. The Bill will give the Central Bank of Ireland the authority to implement tough new rules.
Like the UK and subsequent frameworks, the IAF – SEAR prescribes duties and provides for the delegation of management and operational accountability for regulated financial service providers (RFSPs). JWG has analysed the Individual Accountability Framework and compared the requirements against existing accountability regimes across the globe.
Initial findings shown in Exhibit 1 suggest that the Irish regime will be on par with the global baseline but the way the regime is scoped (i.e., who) and how regulatory reports are defined will need to be carefully monitored as CBI publish the regulation in final form.
Exhibit 1: Irish SEAR vs. JWG's global accountability framework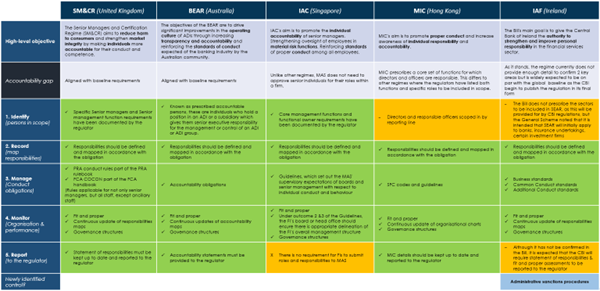 Source: JWG analysis of IAF – SEAR and other global accountability regimes, RegDelta, September 2022
Our findings include:
Identification requirements: Senior executive functions (SEFs), will include inherent responsibilities that will apply automatically. SEFs will need to clearly state responsibilities and management and governance structures – including responsibility maps
Recording requirements: SEAR requires a legal "duty of responsibility" to take reasonable precautions to prevent rule violations for the area of personal accountability. Non-executive directors will also be in scope
Management requirements: Common Conduct Standards will apply to all controlled function (CF) holders and additional conduct standards apply to significant influencers. Broad standards for businesses will also apply to regulated firms
Monitoring requirements: The IAF adjusts fitness and probity tests which require a regulated businesses to provide a "certificate of compliance" to demonstrate that the CFs and PCFs in their organisation remain fit and appropriate and are revoked if no longer certifiable
Reporting requirements: The Central Bank may suspend an individual for a maximum of three months. This time frame would be increased to six months, and the High Court might extend it once more for a maximum of thirty months.
As the Act moves through the Oireachtas to enactment, the Central Bank will hold a public consultation that would mean that SEAR is likely to enter into force by mid-2024. Though it applies only to Ireland, it will be within the EU framework and thus 'gold plate' existing requirements.
The Role of RegTech
In JWG's recent RegCast episode on Accountability RegTech in Ireland 2024, Legal, behavioural and technology experts shared their views on what it takes to get this implementation right.
Dr Roger Miles, Faculty Lead, UK Finance Conduct and Culture Academy, commented "There is a massive gap in every regulated firm between the official version of what we're doing and the 'on the ground', vs what actually happens from day to day."
This raises a question about how firms manage and oversee conduct of their employees, partners and suppliers.
Claran Walker, former Central Bank of Ireland and consultant at Eversheds Sutherlands noted "It is critical that senior managers make it their business to ensure that they check information and not simply rely on being told." He stressed the critical need for board members to look past the information packs to understand what's actually going on within their firm.
Alan Blanchard, Former regulator and Head of Business Development UK, APIAX pointed out that the "last leg of this is that is the gap between the banks and the technology vendors and the regulators" and noted that formal acceptance a technology stack's ability to manage accountability would be enormously helpful. You can find Alan here.
At JWG we couldn't agree more and look forward to honing solutions to map regulatory obligations through to controls. Policy which has lineage back to rules needs to be linked  throughout the business in ways which meet SEAR's demanding accountability obligations.
Now is the time for firms to ensure they have RegTech baked into plans for next year. If not, heavy fines and even jail sentences could be on the horizon for a breach in conduct and accountability.
Want to learn more? Please register for JWG's annual virtual conference 9-10 November.
Please contact Corrina Stokes if you would like more information.
References:
[1] Senior Managers and Certification Regime
[2] Central Bank (Individual Accountability Framework) Bill 2022