Trading desks face unprecedented levels of regulatory change from the mechanics of the markets and how they monitor them, to how they interact with customers, the way they de-risk their technology suppliers and provide information to regulators.
This article summarises the critical changes and lays out the context for our 22 March virtual trading seminar. Don't miss out: 2023 is a crucial year to hear from global experts about the changes ahead and how you can act now to mitigate your risks.
Check out our agenda and join our 22 March virtual seminar:
Register here for complementary delegate pass + 6mo on demand for firms & regulators 
The trading floor changes – work in progress
We start the new year with open consultations on trading rule changes in the EU, US, UK and Asia. However, this is just a part of the regulatory book of work for 2023.
The trading floor is facing a unprecedented regulatory change as the industry strives to make much needed improvements in transparency, best execution, market abuse and AML/CFT detection.
Billions of dollars of WhatsApp fines pale in comparison to the potential impact of market structure changes that give the upper hand to data-hungry competition. Changes to volume caps, systematic internalisation (SI) regimes, the way data is priced, and the regulation of digital assets could create big winners and losers in the 18 months ahead.
Exhibit 1 – JWG  Trading RegRadar December 2022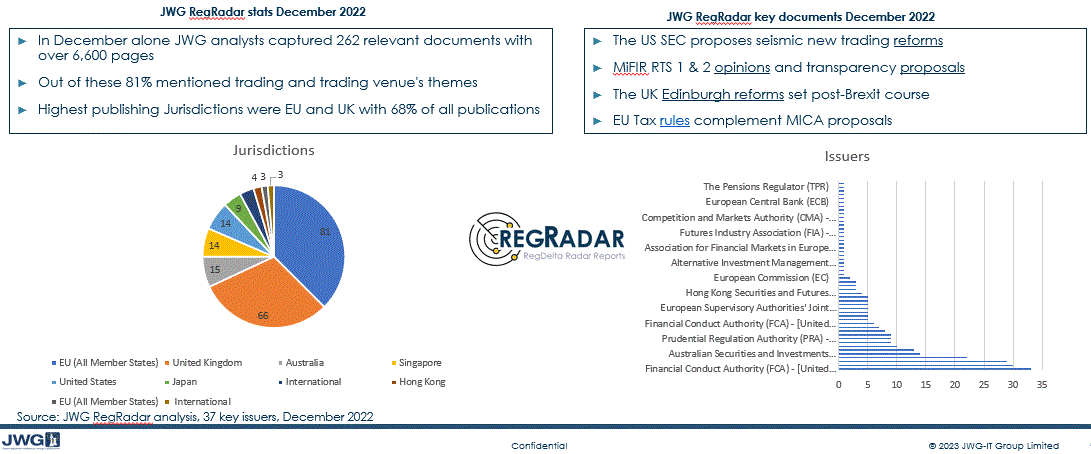 Market players are now under greater pressure than ever to ensure the proper systems and controls are in place to detect any form of Market Abuse or Money Laundering/Combating Financing Terrorism (AML/CFT).
Boards are being challenged to rethink non-financial risk management at the same time. New regulation demands that they know more about 'the how' i.e.: what good FS infrastructure looks like, who delivers it, where it is based and how to control the third-party risks. Market infrastructure and third-party software that has moved to cloud providers, AI will now face new safety hurdles.
If they don't get out in front of these challenges, new accountability regimes will be used to impose painful sanctions which could include losing the right to work in the industry and jail time.
Trading Compliance RegTech
Ever-changing regulatory requirements have compounded the difficulty of meeting customer and regulatory expectations at a level of detail and complexity that few want to deal with.
The three lines of defence (3LOD) model has put immense strain on firms cost/income ratios through excessive operational overheads. RegTech can revolutionize how businesses approach compliance, allowing them to build an agile operating model with greater accountability at its core.
By entrusting risk owners with the right tools, they can create understanding across teams about the decision points and remain agile in the face of emerging regulations. This way, Compliance personnel can take the role of strategic advisor while machines provides the heavy lifting.
As an integral part of an organization's strategy, RegTech leverages a data-driven approach to generate insights about operations and customers.
Compliance by design
2023 is a crucial year for defining a comprehensive business case that outlines priorities and compels leadership teams to engage in conversations which are beyond the boundaries of most day jobs.
A multidisciplinary approach involving legal, data, and technology professionals is paramount for assessing gaps, overlaps, and interdependencies is required.
Collaboration with peers is necessary for crafting standards and best practices, as well as quantifying the impact of rule changes on the supply chain.
Third parties are required to identify key capabilities which must be integrated across risk functions; this will help to identify the 'art of the possible' within the RegTech space.
Conclusion
Consolidating this much change and thinking through the implications is not easy but that is where we come in.
JWG has collaborated with hundreds of SMEs to help guide MiFID compliance since 2006.
Our analysts monitor all regulatory websites and use our RegDelta platform to spot the key issues for the business and identify the impact on the middle and back office.
We are uniquely qualified to pull the network together and shape the debate – join in our VIRTUAL seminar!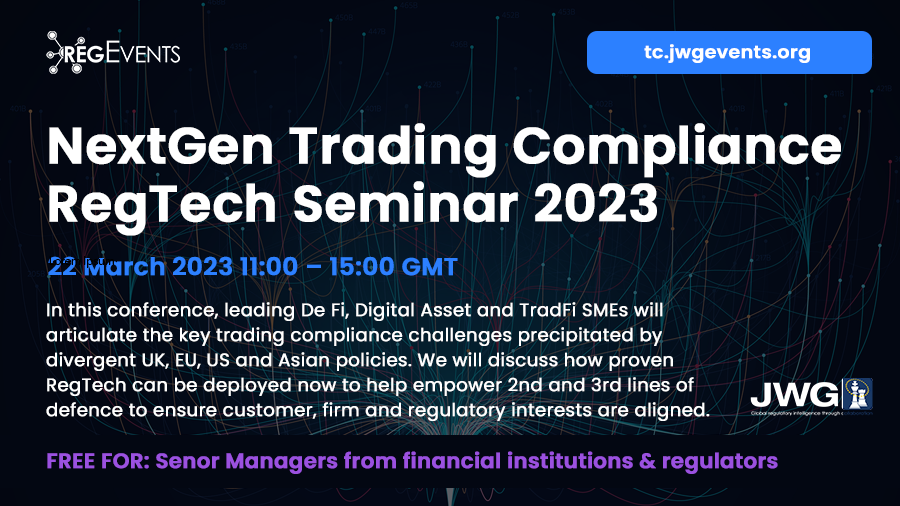 For more information contact Corrina.stokes@jwg-it.eu.
Register here for complementary delegate pass + 6mo on demand for firms & regulators