JWG has won five global awards for its RegDelta platform and website.
If you're looking for the broadest regulatory intelligence with the deepest enrichment, within the fastest timeframes, then you need to check out JWG's RegDelta platform. It showcases the latest analysis, highlights relevant products, services, and events so you can create a bespoke library of intelligence.
JWG's Awards Recap
We were surprised and honoured by the breadth and depth of the activities we were praised for in 2022.
Here's a cheat sheet for those of you keeping score:
Regulatory Solutions provider of the Year- Europe & Asia' 23' – Euromoney
RegDelta topped a formidable list including Kaizen, Droit and Ascent. The judges were" impressed by RegDelta's collaborative approach to bringing a variety of market participants to the table with a view to creating a common domain model for the industry. The firm's use of technology, particularly NLP, in relation to interpreting and understanding the regulation, and enabling its clients to stay on top of changes also stood out
Networking Platform of the Year – Corporate LiveWire
Judges felt JWG's RegTech community, events, partners, hubs and groups were an unparalleled resource for the global community looking to keep up to date with fast-moving regulation.
Best AI-Powered Compliance RegTech (UK) – CFI.co
The cfiI.co judging panel congratulated JWG on harnessing the power of technology to filter out the noise and pinpoint only the most relevant information for its clients.
Best Global RegTech News & Networking Platform 2022' – Worldwide Finance
"One of the standout features, offered exclusively by JWG is their AI-powered RegDelta solution which provides one of the most comprehensive regulatory intelligence in the form of document library management, horizon scanning and impact assessments."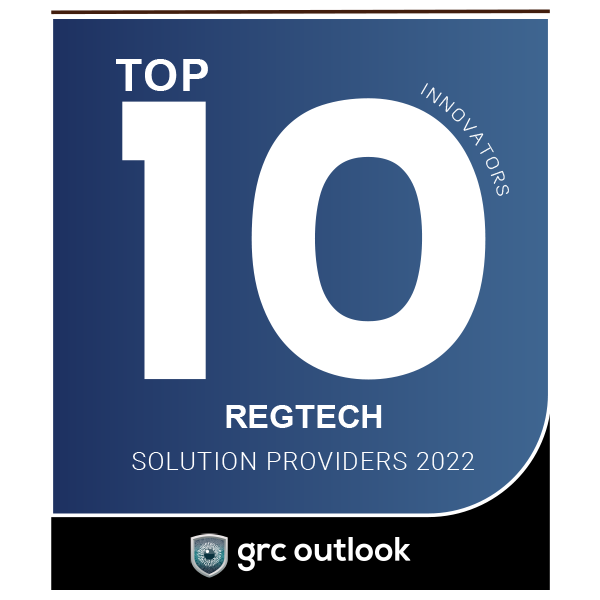 Top 10 RegTech Solution Providers 2022 – GRC Outlook
The team of editors, CEOs, CTOs, and researchers listed JWG among the top innovative solution providers creating a difference in the Regulatory Technology space.
We are truly honoured to have received recognition for nearly two decades of work being educators, informers and enablers, promoting both collaboration and regulatory understanding for the global financial services community.
Our work has helped countless individuals and organisations navigate the ever-changing landscape of financial services compliance, and we are proud to have been a trusted resource for so many.
RegTech 2023 plans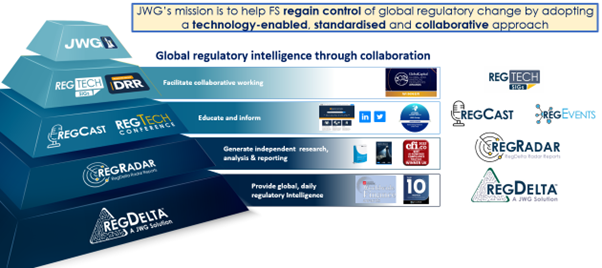 As we look to the future, we remain committed to our mission of providing valuable insights and analysis on the latest developments in financial regulation. We will continue to be a go-to source for those looking to stay ahead of the curve and better understand the implications of regulatory changes. We remain grateful for the trust that has been placed in us over the years, and we look forward to continuing to serve the financial community in the years to come.
From our global horizon scanning platform RegDelta, to our Radar Reporting Service which utilizes that golden source, to our global working groups, market intelligence and global events – all our activities build on each other, resulting in a clearer view of the road ahead, the risks needing to be faced and real strategies on how to deal with them.
Our horizon scanning platform, RegDelta gives us an early warning system for upcoming regulatory changes that could impact your business. Our Radar Reporting Service then takes that information and analyses it to provide you with actionable insights and recommendations. But we don't stop there.
We also run global working groups made up of experts from a variety of industries who share their knowledge and experience to help us identify emerging risks. In addition, our market intelligence team provides us with up-to-date information on what's happening in the marketplace.
And finally, we hold a number of global events throughout the year where you can network with other compliance professionals and learn about the latest compliance challenges.
Stay tuned for JWG's RegTech Beacon 2023 yearbook where we recap 2022 and chart the course ahead.
In the meantime, for information see:
Any questions? Contact: Corrina.stokes@jwg-it.eu