New, exacting BCBS 239 data quality expectations are coming into force just as EMIR Refit and JFSA derivative reporting is put into production 200 days from now. Businesses will be under pressure to deliver lineage for their data or risk fines and reputational damage.
JWG's DRR RegDelta is a RegTech solution that helps companies maintain their data audit trail in a better, faster, cheaper, and a more secure manner.
Raising the risk data aggregation bar – July 2023
On 24 July, the European Central Bank (ECB) detailed new expectations for banks' effective risk data aggregation and risk reporting.
The ECB consultation notes, "Banks are expected to step up and conclude their efforts to improve their governance framework and data management process in a timely manner."
A new guide that compliments, not replaces BCBS239 is part of a wider strategy intended to ensure that supervised banks ultimately achieve substantial progress in remedying their identified structural shortcomings in risk data aggregation.
In the guide, seven key areas have been singled out: the responsibility of a bank's management body; the scope of application of the data governance framework; key roles and responsibilities for data governance; the implementation of a group-wide integrated data architecture; the effectiveness of data quality controls; the timeliness of internal risk reporting; and implementation programs.
The paper clearly articulates the need for data definitions, validation rules and "complete and up-to-date data lineages" as part of an integrated data architecture as highlighted below.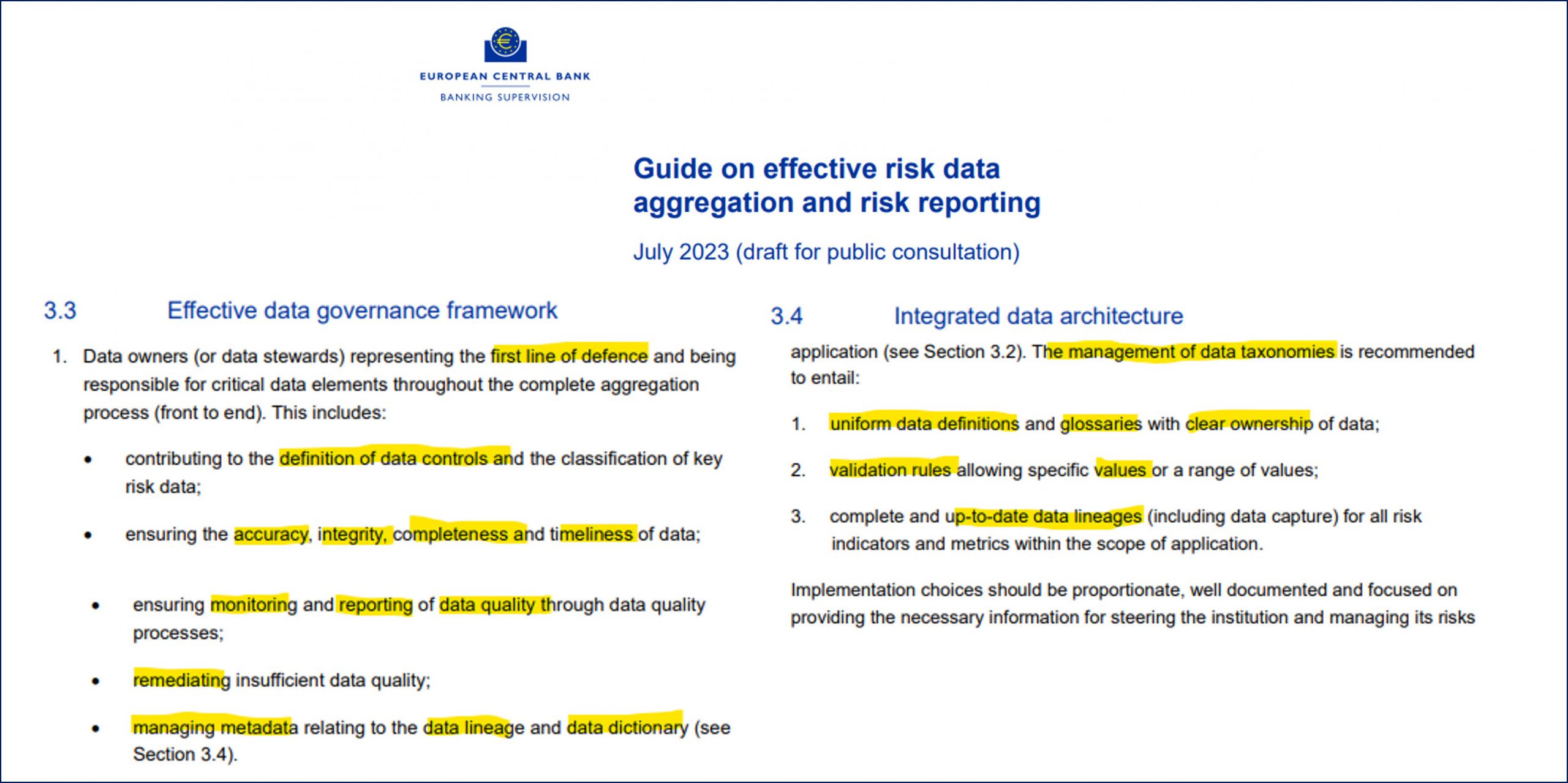 The industry RegTech data challenge
Derivatives market practitioners will be challenged to deliver to these higher quality standards as they meet new trade report deadlines across the globe.
Major regulators have collaborated on international standards to mitigate systemic risk, prevent market abuse, and expect financial institutions to implement them now.
The task at hand involves mapping detailed data flows and changing hundreds of systems. Complicating matters further are the slightly differing requirements of the eight different regulators involved.
Implementation started in December 2022, when the CFTC (US Commodity Futures Trading Commission) rewrite became law, and extends to Hong Kong, scheduled to go live in 2025. New reports are required in Japan and Europe from April 2024.
Unfortunately, this is not only a big onetime expense as regulatory texts and standards documents are regularly updated. The stakes are, therefore, high as millions in fines and customer reputations are on the line.
Solving the human challenge
Knowing the code works is one thing, having "up to date" internal signoff from compliance and audit is quite another.
"Another flaw in the human character is that everybody wants to build and nobody wants to do maintenance." Kurt Vonnegut
Regulatory data demands are complex, and business and IT interpretations are ever-changing. Taking EMIR reporting as an example, JWG has found that in the decade since it was implemented, the rules have been 'clarified' on a quarterly basis with 123 documents totaling 15,000 pages
Unfortunately, it is easy to miss key issues that were part of change projects in these documents, and it is even harder to maintain lineage to interpretation as ESMA publishes updates on the same URL erasing previous publications. What's worse, since Brexit there is divergence and more detail to consume from individual Member States
Rigorous documentation, as well as collaboration between 'change the bank' analysts, compliance, technology, and data teams, is required to define and agree upon business requirements, test scenarios, and exception handling procedures.
An organization's code neither documents itself nor maintains itself. A system to monitor frequent updates to the regulation, best practices or standards is required to ensure the code is up to date and producing valid results is essential.
If, like most in the industry, you manage regulatory reporting change via spreadsheets and Wiki-like data documentation pages, you are taking big risks. Spreadsheets unable to capture text, workflow and audit trail and systems get out of synch and data transformations cause new quality issues.
JWG's RegDelta Soution
JWG's RegDelta revolutionizes the approach to obligation management by providing a powerful bespoke library of public and private source documentation on a highly configurable platform which links people, systems, and data obligations.
Unlike others, we use the Natural Language Processing (NLP) branch of AI. This means we identify precise obligations which our analysts identify and validate with industry SMES, not hope machine learning or chat GPT can unpick the 'so what' of vague text.
No other service has a holistic and extensible ontology of regulatory obligations with the open and standardized approach required to address the reporting challenge.
DRR RegDelta enables firms to control regulatory change:
Centralized management system for regulatory management & oversight
Interpretation and traceability of documentation via AI-powered NLP
Global back catalogue and updates of any regulation to keep up to date
Integration to Confluence for agile project management delivery
Project accelerators and BAU tracking making huge cost and time savings
Other approaches fail to deliver the content and workflow to enable the audit trail.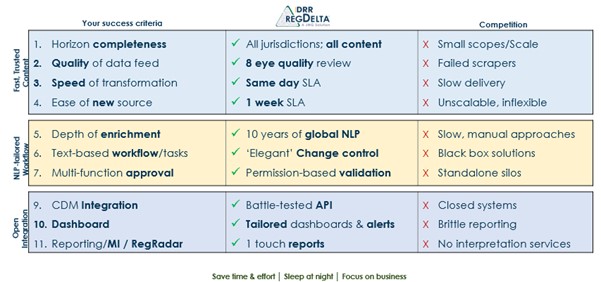 Benefits
Our analysis shows the platform delivers 300% return on investment for both changing your reporting infrastructure and keeping it updated. The investment not only pays back within the year but can cut over 40% from project timelines fast tracking compliance and legal interpretation and business acceptance testing.
JWG analysts scan the horizon and provide enriched regulatory documentation daily. This triggers efficient and fully auditable workflow for your regulatory decisions. Forget the nightmare of wading through spreadsheets, emails, and Jira tickets.
JWG's DRR RegDelta does not just exist in a standalone silo. Open enable the documentation and interpretation to be shared seamlessly with a variety of tools including REGnosys, Solidatus, Collibra, Confluence, Blueprint, SharePoint, Jira, and Email.
Conclusion
With the clock ticking down towards the implementation of the new derivatives data quality expectations, it is imperative that derivatives businesses take action now to ensure "up-to-date" compliance.
The consequences of failing to meet these new regulations are severe, including potential fines and reputational damage.
However, the solution is at hand. By utilizing the expertise of JWG's RegTech solution, DRR RegDelta, companies can streamline their global change processes and achieve a better, faster, cheaper, and more secure result. These benefits translate into a return on investment of up to 300%.
The time to act is now. Contact JWG to find out how you can ensure compliance and protect your business before it's too late.
You can learn more about DRR RegDelta here and watch a 2-minute video here