JWG's eighth annual conference will be the premier, global event for setting the 2024 RegTech agenda on 7 February in London. Join us to help shape the debate today.
About the JWG RegTech agenda
Long recognised as the first, biggest and most professional public/private sector agenda debate, JWG is continuing to focus on helping agencies, firms and those that serve them face fear, greed and safety in a digital age.
When JWG coined the term 'RegTech' over a decade ago, the challenges of implementing post 2009 regulation were well understood.
This year we are tackling a big, global question: How do open RegTech standards change 'compliance' as the next waves of regulation arrive? New adoption pathways are open and real opportunities are here, now.
2024 focus
As digital assets and FinTech are enveloped by the regulatory framework, the next big round of reforms is kicking off across the value chain.
Billions will be spent as 'how' operations are conducted is pulled into scope for all actors and in this conference we will distil the essence of FIFTY regulatory drivers into a coherent debate on the strategic priorities for RegTech 2024.
Year 8 agenda summary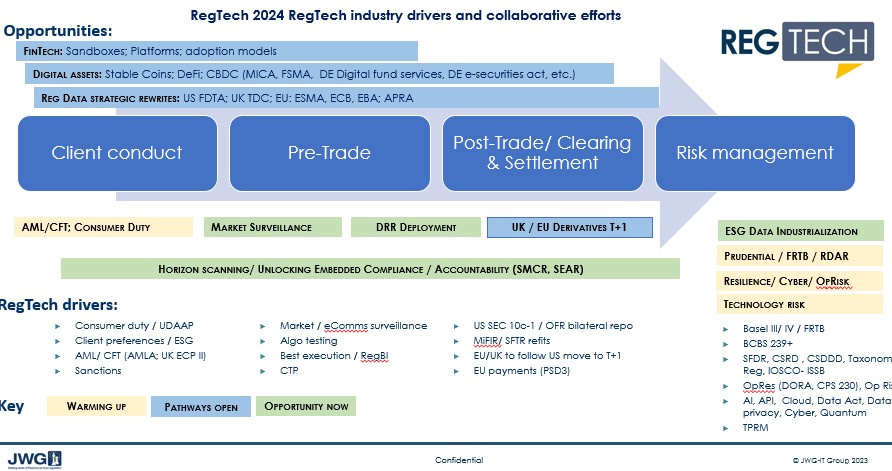 The great news is that firms have an opportunity to leverage new, open-source models to power their controls at the point of execution with better data, logic and reference code. But how?
Learn more about navigating new regulatory obligations, ensuring better, faster, cheaper and safer models of compliance in 2025 according to leading experts in the field.
Join regulators, academics, trade associations, financial institutions and technology experts from around the world on the physical stage in London on 7 February for a professional discussion driven by JWG's exclusive research:
Trading: Transparency, Digital Assets, Market data, algo testing
Conduct risk: Consumer duty/ ESG; AML/CFT/Sanctions; Market abuse; Comms surveillance; accountability
Risk and data collection: Basel III/ IV, FRTB, ESG; 2028/9 EU/US data dictionaries and reporting rewrites
Technology risk management: Op Res, AI, Cyber, TPRM
Compliance: Horizon scanning; unlocking embedded compliance
About the event
We are proud to say our conference is a hallmark event featuring on such lists as Business Insiders top global RegTech conferences.
Our comprehensive approach covers the shifting regulatory agenda and the industry's proactive response.
Year 7 agenda & audience overview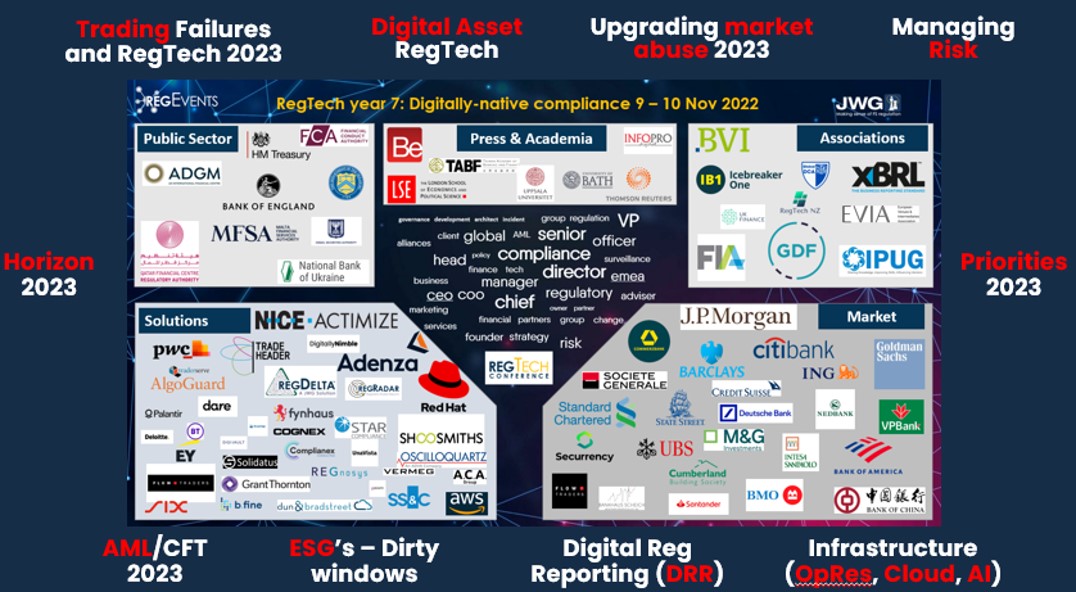 Target Audience 2024
This conference has something for everyone in the RegTech industry and is truly unique. Whether you're a SMEs, executive decision-maker or regulator who wishes to stay on top of regulatory changes you will gain strategic insight and take away practical recommendations for 2023.
Public sector: Prudential regulators, Conduct regulators, Government bodies, Policy units
Private sector: Financial institutions, Accademia, Trade bodies, Standards organisations.
Financial institution roles:
Regulatory SMEs: heads of regulatory change, compliance, legal, regulatory reporting, regulatory programme owners, etc.
Executive decision-makers: CDOs, CIOs, CAOs, COOs, etc.
Technology: CTOs, heads of eCommerce, heads of IT, etc.
Unlike other conferences, JWG will make all research and intelligence available on the new conference website and existing channels allowing the industry to reflect on the event well into 2024.
Sponsorship benefits
Since our last physical event in February 2020 the JWG digital platform has grown massively. Act now to help shape the agenda and maximise your message to the market.
Now much more than being in the room with hundreds of top decision makers, you can leverage JWG to:
Reach thousands of RegCast listeners and JWG readers with your message
Raise your profile via JWG's Partner page, massive LinkedIn presence, Feedspot and other content partners
Sponsor additional round tables, white papers and thought leadership
About JWG
As an independent think-tank company and pioneering developer of one of the world's first regulatory change management systems, JWG is uniquely positioned to bring this RegTech conference to life.
With over 100 investment firms and tech companies as members of over 400 working groups since 2006, engaging social media and an extensive global network, we guarantee an audience that includes the right individuals from top tier firms and their regulators which you are unlikely to meet elsewhere.
Want to register for your All Access Delegate Pass and join this not to be missed RegTech conversation?
For more information please contact corrina.stokes@jwg-it.eu.
We look forward to seeing you soon!