UK Regulators have finally disclosed their plans for 2023 which are 29% bigger than last year with the FCA owning the lion's share of the 143 initiatives.
Practitioners should update their firm's radars with this version but beware: further updates are expected over the course of 2023.
JWG RegRadars are primed and ready. Join us for JWG's 22 March Trading Compliance seminar as we ask experts to zoom in on trading initiatives.
Background to the UK grid 2023
The UK Financial Services Regulatory Initiatives Forum comprised of the Bank of England (BoE), Competition and Markets Authority (CMA), Financial Conduct Authority (FCA), Financial Reporting Council (FRC), His Majesty's Treasury (HMT), Information Commissioner's Office (ICO), Prudential Regulation Authority (PRA), Payments Services Regulator (PSR) and the Pensions Regulator (TPR) released the sixth edition of the Regulatory Initiatives Grid (The Grid) last week.
The schedule had originally foreseen an update in November last year. The delay in publication was attributed to the need for thorough reviews and consultations with stakeholders and other regulators while reflecting on the impact of the Edinburgh Reforms and the Government's policy statement "Building a Smarter Financial Services Framework for the UK" released in December last year.
With 41 new initiatives, the total number of regulatory efforts has now surged to 143 – 29% increase. Looking at the lead regulators, the FCA is front and centre with 19 new initiatives and a whopping 48% of the total workload.
Breakdown of Regulatory Initiative Impact by Regulator
Radar operators in the financial institutions will delight in the fact that only 23% of the initiatives have been assigned a grid classification of 'high impact' and 6% are unknown.
Flash updates
In this update we have delved deeper into the initiatives highlighted in the diagram below.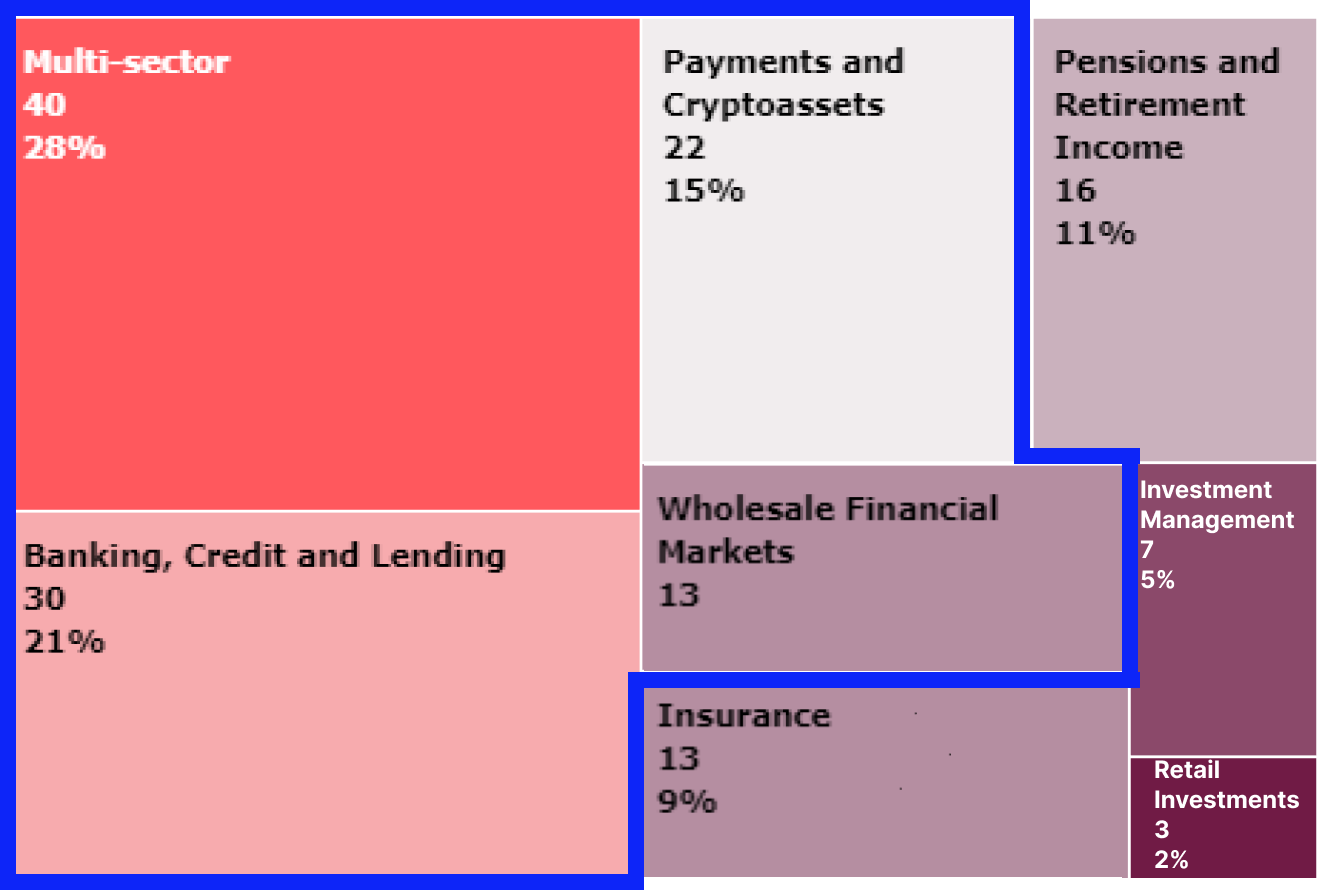 Payment Services and Crypto Assets New!!
Lead regulator:  FCA
Increase: 36% – (8/22 Initiatives)
The "Payment services and systems and market infrastructure" section in the previous grid has been renamed to "Payments and Crypto assets" to incorporate all the Crypto Assets related initiatives.
New initiatives added to this section include:
Supervisory approach to wholesale cash Supervisory approach to wholesale cash (H)*
Access to cash FCA rules
Consultation on changes to safeguarding requirements for payments and e-money institutions
Consultations on rules for stablecoin regime
Consultation on managing the failure of systemic digital settlement asset firms
Future financial services regulatory regime for crypto assets – consultation (H)
Payment Services Regulations – Review and Call for Evidence
Market review of card scheme and processing fees
Market review of cross-border interchange fees
PSR Fees
Areas that received a timing update are:
Crypto assets – extension of the Financial Promotion Order to include certain crypto assets (HMT). Applying financial promotion rules to qualifying crypto assets (FCA).
UK regulatory approach to stablecoins
Authorized Push Payment (APP) scam prevention (H)
Banking and Credit
Lead regulator: PRA
Increase: 33% – (10/30 Initiatives)
New initiatives added to this section include:
Improving depositor outcomes
Increasing ease of exit: Solvent wind down
Finalized guidance for firms supporting their existing mortgage borrowers impacted by the rising cost of living
Reviewing the maximum ratio between fixed and variable remuneration
Tailored Support Guidance (TSG) – Consultation Paper
Consulting on removing burdensome customer information requirements set out in the Payment Accounts Regulations 2015
Banking Data Review
Leverage ratio – contingent leverage
Non-performing exposures capital deduction Consultation Paper
Remuneration Small Firm Proportionality CP
Areas that received a timing update are:
Regulation of Buy Now Pay Later (H)
Statutory Debt Repayment Plan
Amendments to the LCR and NSFR
Implementation of changes to the PRA110 reporting template
Wholesale Financial Markets
Lead regulator: FCA
Percentage: 54% – (7/13 Initiatives)
New initiatives added to this section include:
Implementing ISSB disclosure standards into FCA listing or transparency rules
Review of the short selling regulation – including a call for evidence
Areas that received a timing update are:
Accessing and using wholesale data (H)
Accessing and using wholesale data Trade data review
Amendments to derivatives reporting regime under UK EMIR
Primary Markets Effectiveness – UK Listings Review response
Review of the Securitization Regulation
Multi- Sector
Lead regulator: FCA
Increase: 68% – (27/40 Initiatives)
New initiatives added to this section include:
Review of enforcement policies
Compensation Framework Review
Discussion Paper – Potential competition impact of Big Tech entry and expansion into retail financial markets
ESG Governance, Remuneration, Incentives and Training – Discussion paper
Expansion of the dormant assets scheme
Financial Lives Survey
Open Banking – Joint Regulatory Oversight Committee
Post-Implementation Review of the FOS SME rules
Review of the Senior Managers and Certification Regime (SM&CR)
Consult on and revise the UK Corporate Governance Code
Updated Green Finance Strategy (2023)
Areas that received a timing update are:
Consumer Duty (H)
Diversity in Financial Services
Incident and Outsourcing and Third Party Reporting (H)
Investment Firms Prudential Regime (H)
Oversight of Critical Third Parties (CTPs)
Sustainability disclosure requirements (SDR) and investment product labels (H)
Review of the UK's Overseas Framework
Employment guidance
Conclusion and Next Steps
While regulators claim that there are efforts to reduce the number of initiatives, it is unlikely that the burden of regulation will be lifted anytime soon according to meeting held on 10 February 2023. In fact, the repeal of retained EU law is only going to increase the number of initiatives, further complicating matters.
Market participants will have a light-touch Grid update following Royal Assent of the Financial Services and Markets (FSM) Bill. The next full Grid publication is not expected until Q4 2023.
Let us know if your business needs help aligning your RegRadar and please join us at our 22 March Trading Compliance RegTech seminar which will touch upon many of these efforts.
These events are 'must go' for many senior decision makers which help shape the future of the of RegTech and are at the forefront of this rapidly growing industry.
We look forward to having you at the virtual table!
* H = High impact according to regulators; actual work effort may vary depending on a firm's infrastructure