JWG's 22 March 2023 Trading Compliance Seminar brought together an all-star cast of over 20 experts who discussed plans for the latest MiFID Review, Market Data changes, CTP, MAR, ESG data demands, MiCA and UK digital asset efforts. These experts did an outstanding job in putting regulatory demands into context and provide delegates with valuable insights and practical advice.
Register for on-demand access to March 2023 seminar 
The on-demand event has so far attracted a global audience of 160+ people from 30 countries including the UK, US, EU and Asia. The 5 fast-paced panels have already received nearly 10,000 minutes of view time and all individual sessions are now available on demand for anyone who wishes to review or catch up with any topics they may have missed during the live event.
Hot Trading Radar topics
Changes to market rules will drive new market behaviours, customer expectations and risk management obligations in 2024. Key topics for tomorrow's radar today:
New Market data & transparency rules: ESMA transparency manual, UK wholesale data FS22/1, Consolidated tape (CTP)
Digital assets: HMT Future FS regulation of cryptoassets CP, FCA Asset management DP23/2, JWG global seascape analysis here
JWG's exclusive research lays out the challenges for our 29 June virtual seminar which will use our RegRadar  to get race advice from the experts.
Please see our agenda for exclusive JWG research on MiFID II Review, MAR, CTP, Market Data, ESG, MiCA, UK asset management DP 23/2, HMT Cryptoassets,  Standards, Common Domain Model (CDM) deployment… and more!
Why you should never miss JWG's global, virtual seminars
'JWG's well researched agenda enabled a frank exchange of views on what key actions are required from regulators and the regulated to overcome difficult market transparency challenges. Rudolf Siebel – MD BVI German Fund Association
'The panel brought together experienced industry participants with different perspectives to highlight that even in areas as diverse as ESG and trading there are similarities when it comes to successfully managing regulatory data challenges'. Janine Hofer-Wittwer, CFA – Head of ESG Data and RegRisk Services SIX Financial Information ESG Product Management
'The defining feature of JWG's work through seminars and webinars is that it not only brings together stakeholders to discuss the challenges facing our markets but it's an opportunity to highlight real-life solutions on how to remediate and resolve these challenges'. John Graham, Senior Director of Regulation, FIA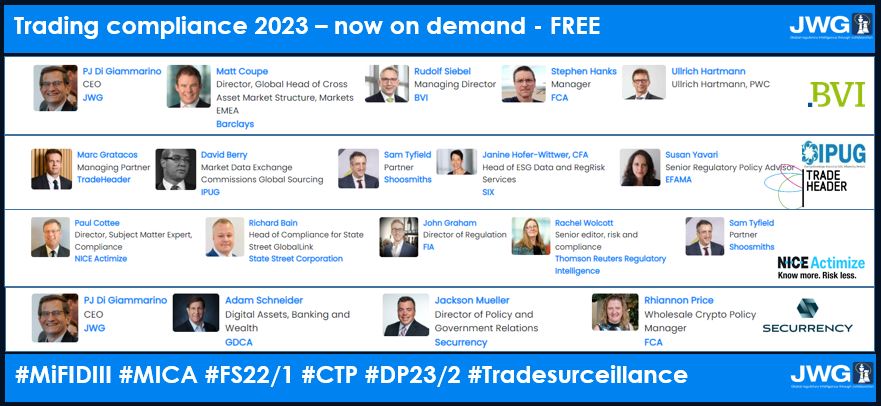 Register for on-demand access to March 2023 seminar 
The next date for your diary 
Our next virtual seminar will be a NextGen Reporting RegTech & SupTech Global, Virtual Seminar – 29th June 2023
This year, financial institutions are facing an unprecedented challenge to keep up with the rapidly changing regulatory reporting requirements across Europe and the globe:
CDE-compliant derivatives trade code is being deployed for: US, EU, JP, AU, UK, SG
New Basel IV prudential reporting requirements are being implemented globally
ESMA is revisiting SFTR, MiFID and EMIR standards and the consolidated tape
The BIS, ISSB and IFRS are all updating ESG international reporting standards
Europe is pushing ahead with MRER to modernise ALL reporting
Short-term reporting deadlines need to be hit while keeping on top of the broader public sector efforts like new FSB data gaps, UK Transformation of data collection use cases and digital asset transparency policy.
Don't miss this opportunity to frame the big picture for your reporting programmes and mitigate your regulatory risks.
Register for 29 June 2023 virtual pass 
Objective
JWG's Public/Private sector task force has concluded that long term, current regulatory reporting systems will not scale to meet the needs of a digital, agile, data-driven economy.
Public and private sectors broadly know the future shape of a digitized, traceable, machine executable version of regulatory texts. However, we are far from an agreed, trusted mechanism to incentivize movement from current infrastructure to this new model.
This seminar brings leading SMEs from Prudential, statistical and trade/transaction reporting arenas together to discuss how market participants can take advantage of reporting RegTech in the short and medium term.
Target Audience For All JWG Events:
Whether you're an SMEs, executive decision-maker or regulator who wishes to stay on top of regulatory challenges you will gain strategic insight and take away practical recommendations for 2023.
Public sector: Prudential regulators, Conduct regulators, Government bodies, Policy units
Private sector: Financial institutions, Accademia, Trade bodies, Standards organisations.
Financial institution roles:
Middle office: Compliance, legal, risk, market data, KYC, data
Technology & data: CTOs, heads of regulatory reporting, risk technology, trade data, risk data
Regulatory SMEs: heads of regulatory change, regulatory reporting, regulatory policy owners, ESG, etc.
Executive decision-makers: CDOs, CIOs, CAOs, COOs, etc.
Senior managers at financial institutions are eligible for complimentary passes for their team and colleagues.
Accreditation:
Registrants are eligible for CPD points through our accreditation partners, London Governance & Compliance Academy
For more information on JWG, our events and the JWG RegDelta platform, please contact corrina.stokes@jwg-it.eu.