An all-star cast of 40+ speakers will gather virtually on 9th & 10th November 2022 to set the 2023 RegTech agenda at JWG's 7th annual premier RegTech conference.
Markets have been rocked by turbulence unseen in over a decade and the regulatory agenda has shifted quickly. JWG research has defined 10 panels and worked with the industry to pinpoint the key questions for the delivery of 40+ global regulatory efforts next year.
Regulators, academics, trade associations, financial institutions and technologists will discuss how RegTech helps move markets from analogue compliance to digitally-native models. Please register for your FREE pass and join us live and on demand for 6 months.
About the event
We are proud to say our conference is a hallmark event featuring on such lists as Business Insiders top global RegTech conferences.
Our comprehensive approach covers the shifting regulatory agenda and the industry's proactive response. Hear from:
Regulators: ADGM, ASIC, HM Treasury, US Treasury
Firms: Barclays, Citi, Commerzbank, Credit Suisse, Deutsche Bank, Goldman Sachs, ING, JP Morgan, Société Générale, State Street
Academia & associations: BVI, FIA, IB1, GDF, IPUG, London School of Economics, XBRL
Supply Chain: Apiax, Adenza, D&B, PwC, Red Hat, Shoesmiths, SIX, Trade Header, Trader Serve, Thompson Reuters
Exhibit 1: Year 7 speakers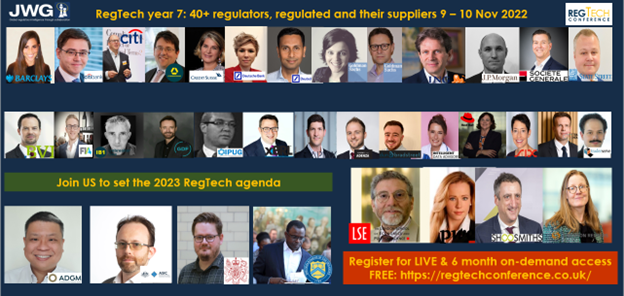 The RegTech agenda: year 7
When JWG coined the term 'RegTech' over a decade ago, the challenges of implementing post 2009 regulation were well understood.
This year, regulatory agendas have been rocked by political and market turbulence, unseen in recent decades.
We will be discussing today's challenges and targets as the industry moves from analogue to digitally-native compliance.
Exhibit 2: Year 7 Agenda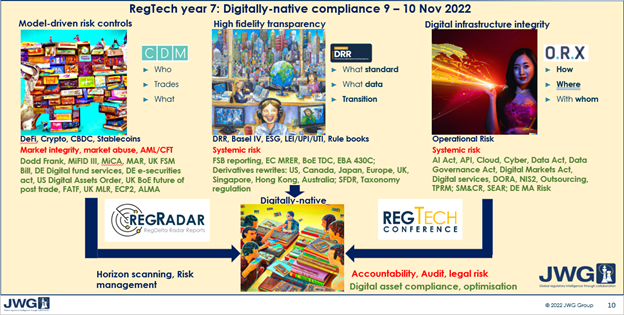 We will distil the essence of FORTY regulatory drivers into a coherent discussion about 2023 RegTech priorities: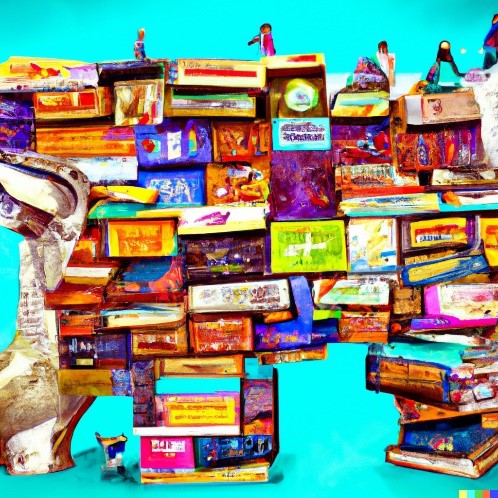 Model-driven controls: With conflict in Europe, economic uncertainty and new digital assets to contend with, regulators are doubling down on controlling market integrity, preventing market abuse and AML/CFT controls:
Regulation covered: Dodd Frank, MiFID III, MiCA, MAR, UK FSM Bill, DE Digital fund services, DE e-securities act, US Digital Assets Order, UK BoE future of post trade, FATF, UK MLR, ECP2, ALMA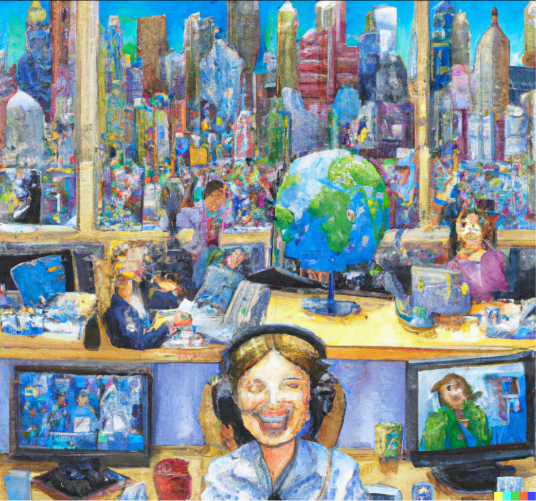 High fidelity transparency: New standards are being deployed, rule books being digitized and common domain models put into action as regulatory reporting is upgraded just in time for global demands for more systemic data:
Digitising Regulatory Reporting: Adenza, Goldman Sachs, JP Morgan, TradeHeader, US Treasury here
ESG – Cleaning Dirty Windows: Deutsche Bank, Dun & Bradstreet, Icebraker One, Six Group here
Regulation covered: FSB reporting efforts, EC MRER, BoE TDC, EBA 430C; Derivatives rewrites in US, Canada, Japan, Europe, UK, Singapore, Hong Kong, Australia; Global ESG regulations: SFDR, Taxonomy regulation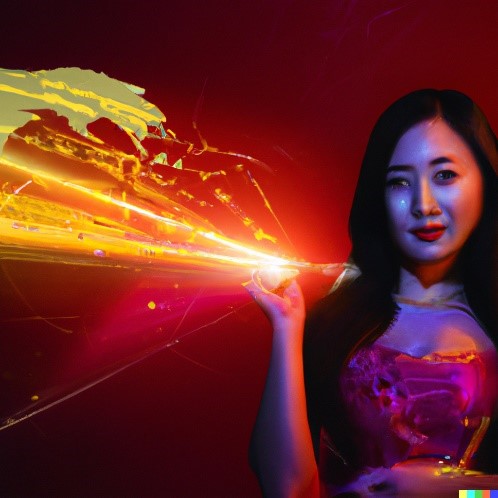 Digital infrastructure integrity: Operational resilience, supply chain and technology governance rules are being rewritten to tame the infrastructure and those accountable for it, with ever more severe fines.
New Digital Risks: Regulatory Infrastructure Controls: ASIC, Deutsche Bank, Red Hat, US Treasury here
Managing Risk: Apiax, Commerzbank, Goldman Sachs here
Digitising The Regulatory Horizon 2023: JWG Group, PwC, Thomson Reuters, ORX  here
Regulation covered: AI Act, API, Cloud, Cyber, Data Act, Data Governance Act, Digital Markets Act, Digital services, DORA, NIS2, PS6/21, Outsourcing, TPRM; SM&CR, SEAR; DE MA Risk, APRA CPS 230
For more on the agenda and speakers see here and check out our sponsors' amazing booths here.
Target Audience
This conference has something for everyone in the RegTech industry and is truly unique. Whether you're a SMEs, executive decision-maker or regulator who wishes to stay on top of regulatory changes you will gain strategic insight and take away practical recommendations for 2023.
Public sector: Prudential regulators, Conduct regulators, Government bodies, Policy units
Private sector: Financial institutions, Accademia, Trade bodies, Standards organisations.
Financial institution roles:
Regulatory SMEs: heads of regulatory change, compliance, legal, regulatory reporting, regulatory programme owners, etc.
Executive decision-makers: CDOs, CIOs, CAOs, COOs, etc.
Technology: CTOs, heads of eCommerce, heads of IT, etc.
Unlike other conferences, JWG will make all content and intelligence available on a fully interactive platform for 6 months, allowing the industry to reflect on the event well into 2023.
About JWG
As an independent think-tank company and pioneering developer of one of the world's first regulatory change management systems, JWG is uniquely positioned to bring this RegTech conference to life.
With over 100 investment firms and tech companies as members of over 400 working groups since 2006, engaging social media and an extensive global network, we guarantee an audience that includes the right individuals from top tier firms and their regulators which you are unlikely to meet elsewhere.
Want to register for your All Access Delegate Pass and join this not to be missed RegTech conversation?
For more information please contact corrina.stokes@jwg-it.eu.
We look forward to seeing you soon!